The power to resist fading and color change
When creating Invercote's signature white, we asked demanding cosmetic and beauty brands what they needed most. Many wanted a lasting white that would resist fading. Others say a bluish white was attractive, but didn't allow for accurate reproduction of light, warm tones. Invercote overcomes these challenges, ensuring accurate, wide-ranging color reproduction and lasting whiteness.
"Invercote is at least twice as resistant to light exposure as comparable paperboard products."

Holmen Iggesund R&D Team
Accurate color reproduction
Consistent and faithful color reproduction is an Invercote hallmark. One common preference today is to use a bluer shade of white. But if ink coverage is low, this blue element tends to come through – making it difficult to reproduce healthy-looking light skin tones. Fortunately, the Invercote family avoids these issues by providing a whiteness that ensures superior printability across a wide color reproduction range.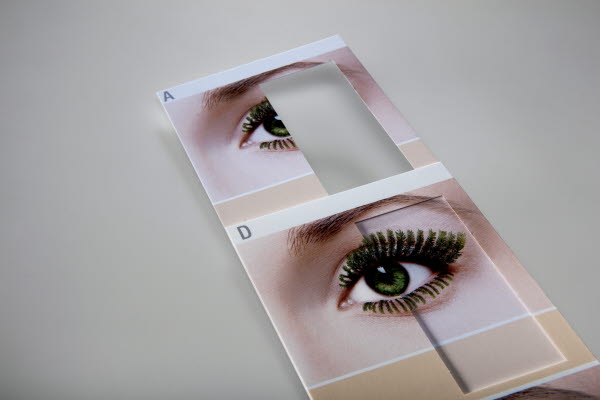 Balanced, lasting, whiteness
Exposure to light can cause a packaging to fade. This is usually due to an excessive use of optical brightening agents (OBAs) in the paperboard – the chemical compounds that absorb invisible UV wavelength light and emit visible blue light. These compounds deteriorate over time, causing the shade to change. The more OBAs used, the faster the change. However, through the moderate use of patented OBAs, Invercote provides just the right light stability required to avoid fading.
The secret behind our lasting whiteness

No impurities
The starting point is to use nothing but pure fresh fiber, sourced from our own actively managed and sustainable forests. By using nature's finest ingredients, combined with advanced pulping and paperboard production technology, we get a premium white packaging material that is versatile and clean.
No dyeing agents
Many paperboard products achieve a high CIE whiteness level through the addition of large amounts of dyes. While this may result in a sample that initially looks good, it can cause the board to look dirty and adversely affect print quality. Invercote's superior whiteness means that no additional dyes are needed.
No excessive OBAs
Although we do add some optical brightening agents to the surface of the board, we do this in careful moderation. Here, a key differentiator is our use of a proprietary mixture ("secret sauce") that enhances the visual perception of whiteness while avoiding the "fade factor" associated with high levels of OBAs.
Just the perfect white
The result is a premium white shade that avoids blue tints, allowing for superb color reproduction across a wide spectrum. From sheet to sheet, you get a consistent and balanced whiteness that lasts – in both indoor and outdoor lighting. In short, just the kind of premium whiteness you'd expect of a market-leading paperboard.