Although surgical sutures have been used for thousands of years, recent development of new shapes, sizes and thread materials have transformed the business. Today, surgeons can choose between numerous materials, many of which are treated with medical agents to support wound healing and kill bacteria. They must be strong enough to hold tissue securely but flexible enough to be knotted.
Nothing but pure paperboard
Regardless of the type of suture being used, purity and sterility are of paramount importance – and the same goes for the selection of primary and secondary packaging. In this case, the customer wanted a coated solid bleached board (SBB) – without any extra optical brightening agents (OBAs) – and made of pure fresh fiber. Their packaging and conversion team was also attracted to the superior strength and durability of a multi-layer board, compared to grades containing mechanical or recycled fibers or monolayer SBB board.
Low amounts of paper dust
"As with many of our medtech customers, this situation highlights some key challenges facing healthcare professionals," says Ulrich Pfau , Technical Service Manager at Iggesund Paperboard. "First, they wanted a strong, pure board with the dimensional stability and durability to withstand some rather advanced die-cutting, creasing and perforation – without creating a lot of paper dust. The minimization of paper-dust particles, which can arise during the sheeting and perforation process, was vital since the customer adheres to strict hygienic criteria for its own clean rooms."
Download MedTech Packaging Guide
Get expert advice, avoid common mistakes and see how leading MedTech companies are thriving with paperboard packaging.
Click to download for free.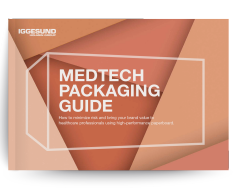 Free from moisture and OBAs
But according to Mr. Pfau this was just the start. The customer also needed a board that was free from any chemicals that might interact with the medical agent, while still being able to absorb small amounts of potential moisture build-up in the ethylene oxide (EtO) gas sterilization process. This meant using a board that was free from traces of OBAs – used to enhance surface brightness. "Although OBAs are harmless, in this case their toxicologists were concerned that they might potentially interact with the medical agent on the sutures. It was also important that the paperboard should not absorb the medicine!"
Validated and used for 200 applications
The validation process was extensive. It included bio-compatibility studies, permeability tests, transport analysis, mechanical tests and more. In the end, the customer selected our FDA-compliant Invercote T grade for use as the printed, card-like carrier in the inner packaging, which is covered in foil. Slightly smaller in size than a mobile phone, it holds the sutures in place and helps to contain the medical agent used to promote healing and reduce microbial buildup. To ensure the absence of humidity, the board is first dried and then the "cards + thread" are wrapped in aluminium foil and packed in plastic bags before being sterilized.
Zero customer complaints
Today, the approved Invercote T grade is used for some 200 different suture packaging applications or sub-products. Tight tolerances, consistent quality, reliable stock availability and service are all of essential importance. "In my eight years of working with this customer, I haven't received a single complaint regarding the board quality itself," says Ulrich Pfau, who adds that Iggesund Paperboard is always very careful when making any upgrades that could influence the packaging. "The last thing in the world customers want is a lot of unexpected changes," he says.
"This is a multinational player with sourcing in one country, testing in another and production spread out across the world. The surgical sutures they produce can be found in the operating theatres in countries with tropical climates, so guarding against moisture is key."

Ginny Samuel, Account Manager Sales Europe Iggesund Paperboard
Promoting longer shelf life
Shelf life and longevity were also very important, according to Ginny Samuel, Manager Brand Owners and Retail at Iggesund Paperboard. "This is a multinational player with sourcing in one country, testing in another and production spread out across the world. The surgical sutures they produce can be found in the operating theaters in countries with tropical climates, so guarding against moisture is key. Since they also offer a 5.5-year guarantee to customers, it means surgeons, nurses and other healthcare professionals must feel secure that they've always got a premium product on the shelf."
A business built on trust
"When you boil it down, this whole business is based on trust," says Ms. Samuel. "It takes many years to build customer confidence. After working with us for a while, our customers come to understand that we are a very stable and reliable company. We've been around for more than 400 years and will continue to be at their side."
Advancing surgical outcomes
"In this case, our customer is committed to shaping the future of surgery with meaningful solutions that enhance outcomes. Our role is to make sure their vision can always be achieved with premium packaging material that is safe, reliable and offers no surprises," concludes Ms. Samuel.