Ask for full spec sheets
Although paperboard is a well-established packaging material for a wide variety of medtech products, there is not always easily available and complete information regarding environmental certificates, functional performance and more. Maybe it's the fact that I'm a German technical guy who works for a very demanding and detail-oriented producer of premium board, but I like to see all product properties clearly listed on spec sheets – with tight tolerances.
Download MedTech Packaging Guide
Get expert advice, avoid common mistakes and see how leading MedTech companies are thriving with paperboard packaging.
Click to download for free.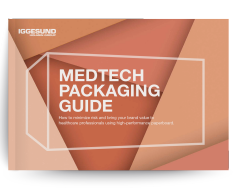 Specifying 32 properties
You know what I'm talking about - everything from board thickness and whiteness to bending stiffness, tensile strength and more. And I don't just mean four or five properties. At Iggesund Paperboard, we specify 32 characteristics. The reason for this is simple – it's our commitment to customers to secure the consistency, safety and quality of their products. And we're proud to stand behind each and every one of them, from pallet to pallet, sheet to sheet – day in and day out.
Avoid packaging line stoppage
The fact is that even small variations in agreed tolerance levels can impact packaging line efficiency. So while many suppliers talk about quality and consistency, ask to see proof. Serious producers can guarantee very tight tolerances of +/-4% on grammage (ISO 536), thickness (ISO 534) and more.
"We provided a coated solid bleached board – without any extra optical brightening agents and free from chemicals that might interact with the medical agent, while still being able to absorb small amounts of potential moisture build-up in the ETO gas sterilization process."

Ulrich Pfau, Technical Service Manager Iggesund Paperboard
To find out more about our thinking in this area, download our free Medtech Packaging Guide.