Sterility, purity and hygiene
Naturally there are dozens of factors that impact packaging-line efficiency. The number is arguably even higher for medical technology products, where sterility, purity and hygiene are essential. When it comes to paperboard, key factors for line efficiency are mainly related to strength, creasability, foldability, gluability, sealability, flatness and dimensional stability. Variability in these properties and in the relevant structural design features of the cartons can cause disturbances in the optimal settings necessary to achieve efficient performance.
Download MedTech Packaging Guide
Get expert advice, avoid common mistakes and see how leading MedTech companies are thriving with paperboard packaging.
Click to download for free.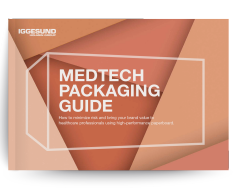 Consistent high quality is the key
The need for consistent, high-quality properties really hit home to me in thinking about our longstanding relationship with a supplier of insulin pens, vials and kits for diabetics. For more than 20 years, we've provided them with our market-leading Invercote®, a multi-layer solid bleached board that needs to cope with some rather complicated creasing and folding in the design. Year in and year out, the consistent quality of the board has assured consistent quality and smooth, hassle-free operation in their high-speed packaging lines.
When cheaper is more expensive
In one instance, when they tested a more economical folding box board for a less advanced box, the results were unsatisfactory due to dust formation on the blanks and unforeseen stoppages. To regain control over quality variations, they switched back to multi-layer solid bleached board Invercote®.
"From batch to batch, Invercote delivers the same thickness, grammage, stiffness and more to within the tightest of tolerances. This means that printers can keep running their lines at high speeds to meet the demands on volume without worrying about stoppages and unscheduled downtime."

Bengt Johansson, Key Account Manager Iggesund Paperboard
To read more about this case and others, download our free Medtech Packaging Guide.