With our guided tour from the plant nursery to the forest and on to the mill, Holmen Iggesund would like to share with you knowledge about the finest paperboard manufacture and how the company lives up to high sustainability demands.
History
The manor is an important part of Holmen Iggesund, which is in turn part of the Holmen Group's proud historical heritage. Our Grill Manor restaurateurs have a long tradition with us and serve numerous highly appreciated recipes..
Grill Manor was built after Iggesund Mill was founded by Isak Breant in 1685. A Russian fleet sailed into Iggesund in 1721 and burned down much of the village, the iron foundry and Grill Manor.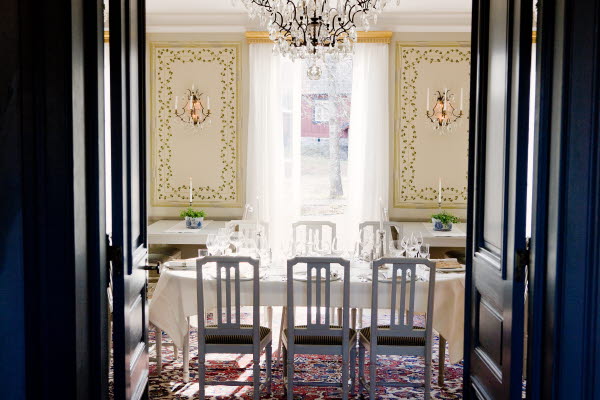 The Grill family took over the foundry after the fire and built the manor house as we see today. The Grill trading house and the rich brothers Abraham and Carlos Grill came from a wealthy family from Italy. They owned several Swedish mills and foundries, a number of manor houses in Sweden, and the Grill building on Stortorget square in Stockholm. The family was a major shareholder in the Swedish East India Company, which opened up a trading route to China for Swedish interests.
The family's coat of arms is still used today as the symbol of Grill Manor. It is a crane holding a grasshopper in its beak, standing on one leg, and holding a stone with one foot. The symbolic meaning is being always on one's guard. The grasshopper is a reference to the Italian word "grillo" and the family was ennobled with that name as a reminder that its ancestors were among the first brave fighters to jump over the city wall during sieges.
The manor house was previously used as a summer home by its owners but for many years now, it has been utilized in various ways by Holmen Iggesund. The wings have served as laboratories, kitchen, and offices.
For a while at the beginning of the 20th century Grill Manor was a mess hall for single male office workers. Here they could eat their meals, drop off their laundry, fetch moose meat during hunting season and get a decorative tree for Christmas.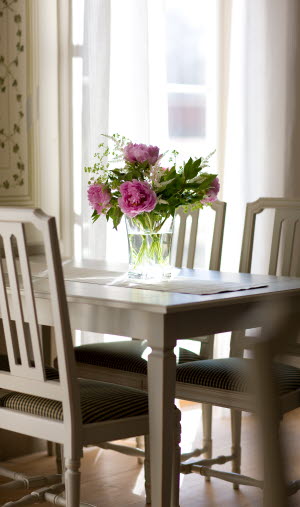 The manor is built in a Carolingian style and is a typical home of a rural lord of the manor from the Age of Liberty in Sweden (1718-72). The main house stands at the end of a street flanked by two wings of workers' homes, facing the foundry's blast furnace and forges.
Welcome to Grill Manor!