Where did your creative path begin?
"I did a quite generic media degree at university. I got a job in television, making tea and getting bossed around by producers. I wanted to be a more hands-on creative and started working with the team that made adverts for the shows at the BBC. It was a room full of creatives. I decided to start learning photography. London is a great place to start, with a lot of architecture to play around with. One day I was standing in front of Big Ben and I looked around and there were four other people all taking the same photo. I thought: 'what can I do to be different?'"
Why did you start using paper cut-outs?
"At work I was making short animations, cutting characters out of paper. I was inspired by the dream sequences in the Michel Gondry film Science of Sleep. Eventually I came up with the idea to transform landmarks and landscapes using paper cut-outs. That was in June 2015."
Your work is very hands on. Why not just use Photoshop?
"People keep asking me why I just don't use a stock photo. There is no enjoyment in that whatsoever. The paper craft is the main ingredient in my work, then comes the idea and the third ingredient is the travelling. Some people want to characterise my work as street art. But what I do is non-destructive vandalism."
You have done a lot of commissioned work for companies such as Red Bull and NFL. What was the first project you did?
"Lonely Planet found my stuff on Instagram and offered me a small amount of money to travel around Europe. I worked hard on the project and it ended up on the cover of the Daily Mail."
How do you find your objects?
"Let's say I get a call from the Hong Kong tourist board, inviting me to come and do a project. I start with Google Search and I also use Flickr and ArchDaily, an architectural website – to find landmarks and unusual sites. I try to come up with ten ideas. When I get there, normally a few of those ideas won't work. I carry my camera and cutting board with me all the time, in case I'm walking down the street and get an idea."
"The paper craft is the main ingredient in my work, theN comes the idea."

— Rich "Paperboyo" McCor
Is this your full-time job?
"I never intended for it to be a paid job. I was very casual about it. But I was using all my holiday time at work to do my trips and kept getting offers to travel. It was hard to say no. So I left the BBC. I don't know how long it's going to last but for the moment I'm really enjoying it."
What's the hardest part about making these artworks?
"I try to come up with ideas that surprise me. There is a lot of googling, drawing ideas, playing around. The next-hardest part is taking the actual photos. There are so many factors, such as wind, a tourist in the way, angles, weather."
What does the word creativity mean to you?
"Originality. Trying to do something no one else is doing. That also goes with trial and error. Not being afraid of trying and failing. Eventually you are going to come up with something that works. I don't consider myself an artist – I'm a photographer. I was so bad at art in school, so that would make me feel like a fraud."
Five of the most popular artworks by Paperboyo:
1. Neon Museum, Las Vegas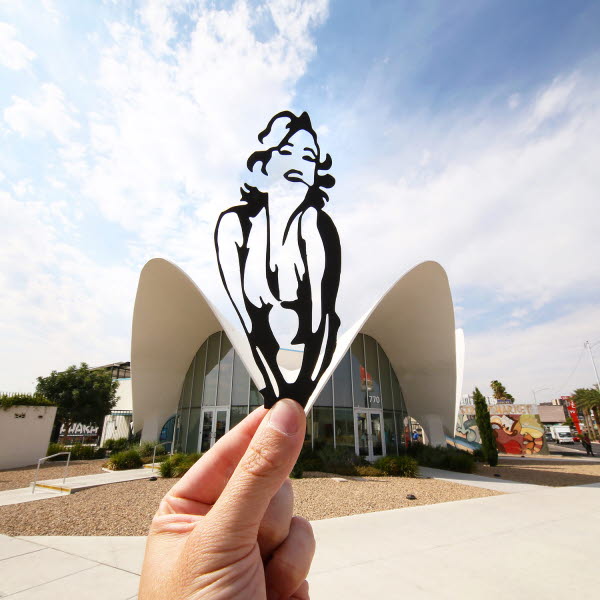 2. Arc de Triomphe, Paris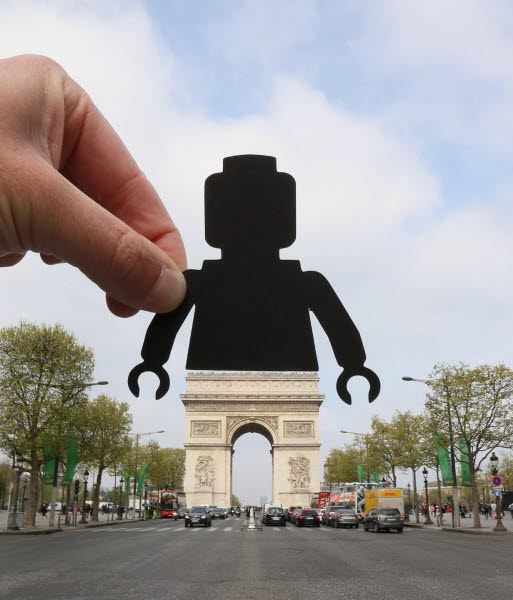 3. Tignes, France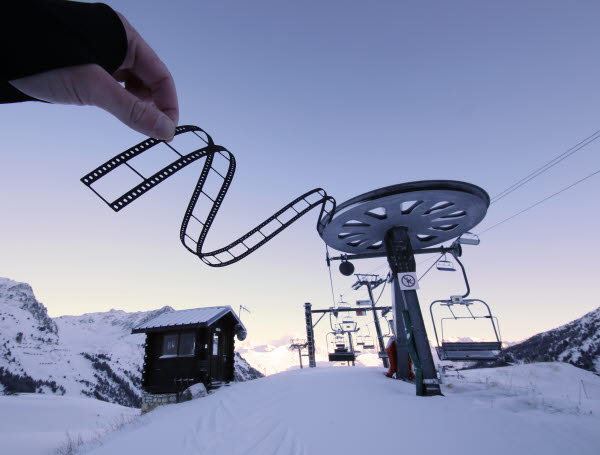 4. Korean Bell of Friendship, Los Angeles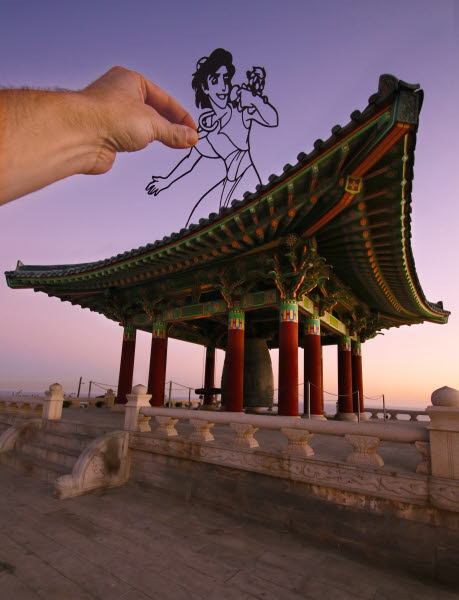 5. Kópavogskirkja, Iceland