"In order to love sweets, first the buyer must fall in love with the box," says Elena Smirnova, account manager.
Packaging has always been a big part of the Red October image, collaborating with artists to produce labels like "Little Red Riding Hood", "Big Brown Bear" and its most loved "Alyonka", a picture of an apple-cheeked girl covered in a flowery headscarf, which has become so iconic that it's been called "Russia's Mona Lisa."
"Red October hand-made sweets have a strong reputation on the market, not only because of brand recognition and quality, because we use only premium ingredients. No less significant in the evaluation of products is a rich variety of design elements, constructive forms of packaging. We have our own style of sweet design," says Nina Kuznecova, project manager.
Although they have almost sixty different kinds of sweets with various tastes and design, the objective is always on high-quality, memorable packaging.
In 2016 they started making packaging for their sweet set "Vintage Postcard" on Invercote, which won the main prize at the prestigious packaging contest ProdExtraPack in 2017.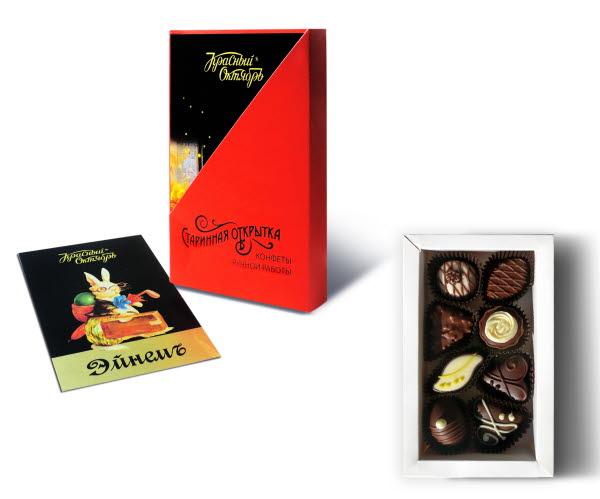 "Invercote paperboard perfectly keeps its shape, does not crack at the folds, has perfect printability and no smell, which is something very important for the food industry," says Tamara Sharkova, designer.
Wrapping their premium candies in environmentally friendly packaging, Red October gives a final testament of commitment to the planet and its people.