Inspired by the free spirit and joie de vivre of his female friends in Paris, Marcel Rochas founded his fashion, beauty and perfume house in 1925.
The company gained widespread recognition for Femme, their first signature perfume in 1944, a scent that was created as a gift for Marcel's wife, and later for their immensely popular Madame Rochas fragrance. Their perfume range today continues to represent a timeless style and French elegance with scents that are rich and luxurious.
To present this perfume to consumers in a packaging that suggests the luxury of the product inside, Interparfums, which owns the Rochas brand today, chose Invercote G 330g/m2.
"The cardboard box is the first thing that the consumer sees in the stores," says Julien Petche who is responsible for packaging at Interparfums. "It is therefore very important for catching the consumer's attention. We chose Invercote G for the Mademoiselle Rochas in Black perfume because the colour code of our branding artwork is black and white, so we needed to have a very white and bright paper. We always print inside too so the possibility to print on the inside of the box was important for us. We also needed to hot foil stamp 90 per cent of the surface and Invercote is well known for its ability to withstand pressure."
The Invercote G range has a smooth surface, tailored to faithfully reproduce the most sophisticated printed images and meet the high demands of flawless foil and film lamination. This surface, combined with its excellent structural, design and embossing characteristics make it ideal for demanding printing applications. Invercote G, which is made from pure fresh fibres, is recommended for high-end graphical applications and packaging, and also for aroma and flavour sensitive products.
"Invercote G is the perfect packaging therefore for a premium perfume such as Mademoiselle Rochas in Black," says Petche.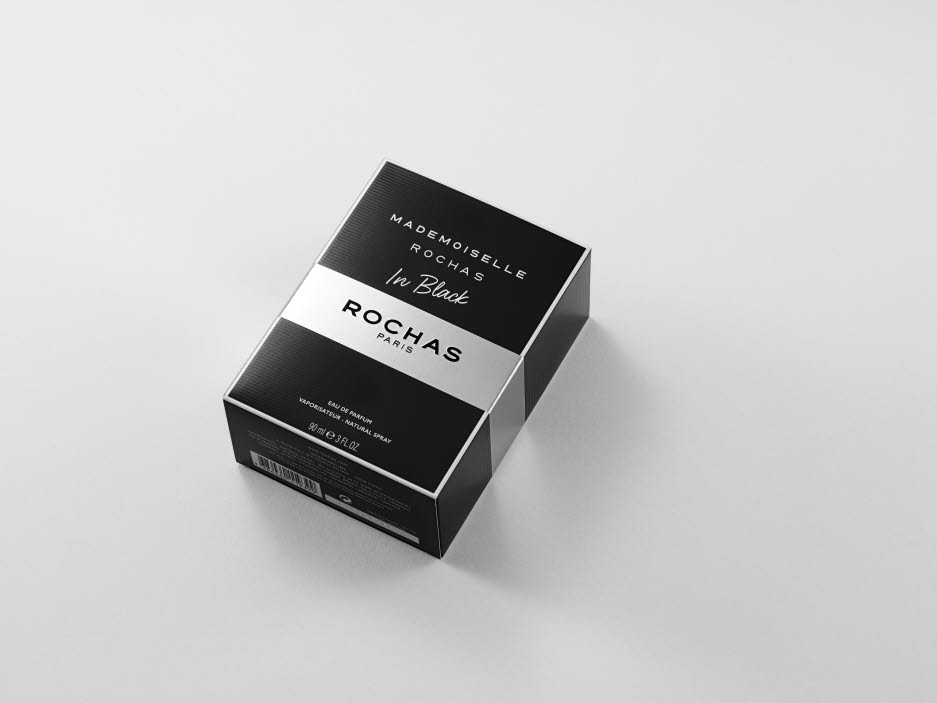 Facts
Brand: Mademoiselle Rochas in Black
Product: Perfume
Paperboard: Invercote G 330g/m2
Converter: NORTIER EMBALLAGES
Finishing techniques: Embossing with line aspect + hot foil stamping + top varnish