In a quiet neighbourhood on the outskirts of Barcelona, packaging magic is constantly happening. Ever since it was first launched in 1964, EGISA has been a leading manufacturer of high-quality folding paperboard boxes. A strong commitment to provide excellence in both quality and services has made the company a trusted partner in numerous luxury packaging projects.
"Our clients are prestigious brands in the fragrance, cosmetics, and wine and spirits industries. Over the years we have gained a strong international presence, exporting all over Europe, America and the Middle East," says Laure Molinié, Marketing and Communications Manager at EGISA.
Given this position, it is perhaps no surprise that one of the most respected designers in the world took help from EGISA for a new product.
Philippe Starck is the ultimate bad boy of the design world. With the attitude of a rock star, the 68-year-old Frenchman is widely hailed as one of the most influential industrial and interior designers ever. Starck began his career as an apprentice to the fashion designer Pierre Cardin and ended up having his own furniture line. In 1983 the French president François Mitterrand appointed Starck to refurbish his private residence.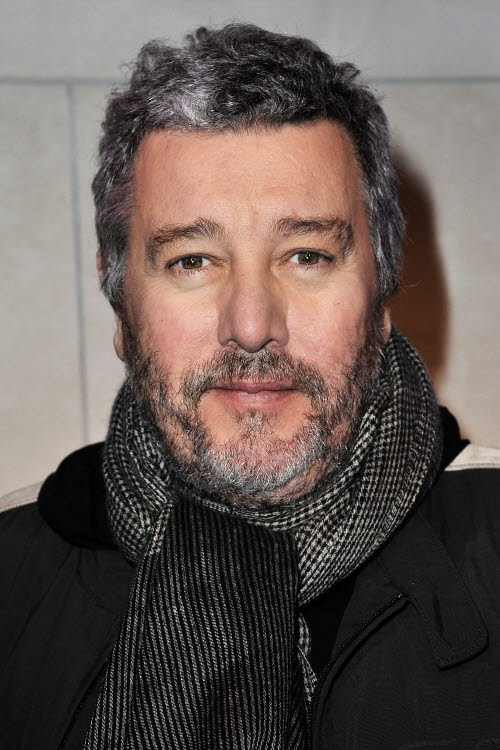 Philippe Starck, one of the most influential designers of modern times.
Since then the phone hasn't stopped ringing. Today his biography is as wide-ranging as it is productive: from iconic homeware like the lemon squeezer Salif for Alessi or the controversial Gun lamps for Flos, to some of the most extravagant hotels and restaurants you will ever visit. He has also designed a toothbrush, an electric car and a couple of 70-plus-metre yachts (Steve Jobs ordered one).
Growing up in Paris, where his father was an aeronautical engineer and his mother owned a perfume shop, the young Starck used to spend hours cramped in the shop's tiny back room. In the autumn of 2016, when the avant-garde designer launched a set of three fragrances (Skin of Silk, Skin of Stone and Skin of Elsewhere), the first collection from the new beauty brand Starck Paris, he looked back to his childhood days in the perfume shop.
"Our client was looking for a material with a warm white. It was Philippe starck himself who decided to go with the matt Invercote Creato."

— Laure Moliniè, EGISA
"I loved to take refuge there," he said. "Because of the aromas, the exponential sum of the perfumes, beauty creams, lotions and shampoos, I travelled through an uncharted territory filled with incredible riches."
The bottle design is unequivocally Starck – an amorphous shape contrasting with a distinct black top. At the Pentawards ceremony in Barcelona in September 2017, the international jury awarded the Starck Paris collection, developed by the Spanish company Perfumes y Diseño, the prestigious Diamond Pentaward for Best of Show.
In the beauty industry, even more than in other industries, packaging is a major part of a brand's image. It must be original in order to attract the consumer's attention and also to convey quality and luxury. In order to achieve this, designers need to use the best materials available on the market.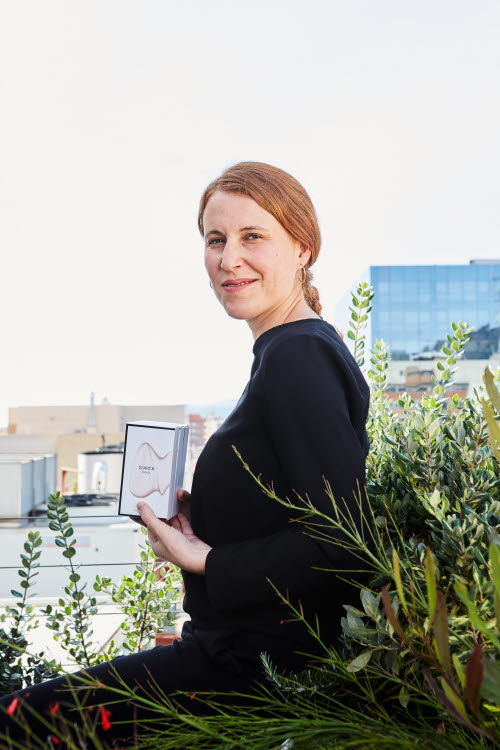 Laure Molinié outside the EGISA office in Barcelona with the award-winning Starck Paris packaging.
What quality in the paperboard were you looking for when you chose Invercote Creato?
"For this project, our client, Perfumes y Diseño (PyD), was looking for a material with the following characteristics: a warm white, a smooth feel on both sides and, last but not least, the guarantee that it would faithfully reproduce the
spectacular packaging design. We sent PyD different mock-ups made in different materials and it was Philippe Starck himself who decided to go with the matt Invercote Creato," says EGISA's Laure Molinié.
What is your overall experience of working with Holmen Iggesund?
"Very good. We have been working with Holmen Iggesund for more than 20 years now. From our long experience in luxury packaging, we can say today that Invercote is an ideal substrate for packaging. Indeed, it works perfectly at every stage of the production process (printing, embossing, debossing, hot foil stamping, die cutting etc). It is a very high-performance material that every machine operator would like to work with."
What does receiving the Pentaward mean to EGISA?
"This award is the achievement of Perfumes y Diseño and Starck. The Pentawards are one of the most important competitions in the world in the packaging industry and reward the most beautiful packaging designs. That is why – of course! – at EGISA we are all really proud and delighted to have been part of this amazing project. We have worked hand in hand with our client to ensure that this project would be a success. And fortunately it is."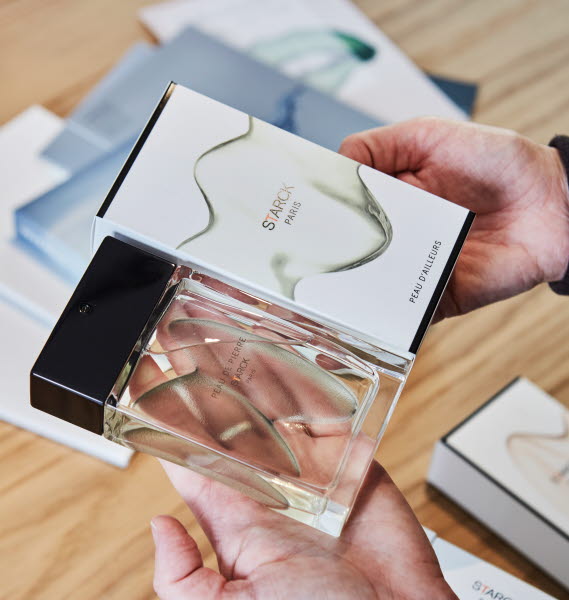 At the Pentawards ceremony in September, the Starck Paris collection, designed by Perfumes y Diseño, won the prestigious Diamond Pentaward for Best of Show.