Dysphagia, or difficulty swallowing, is a hidden yet very common disability. Many people suffer from dysphagia after a stroke, but the condition also affects those with neurological disorders such as motor neuron disease, multiple sclerosis and Parkinson's disease, people with head injuries, and children and adults born with cerebral palsy or Down's syndrome. Many sufferers also have diaphragmatic hernia, which results in swallowing difficulties, heartburn and acid reflux.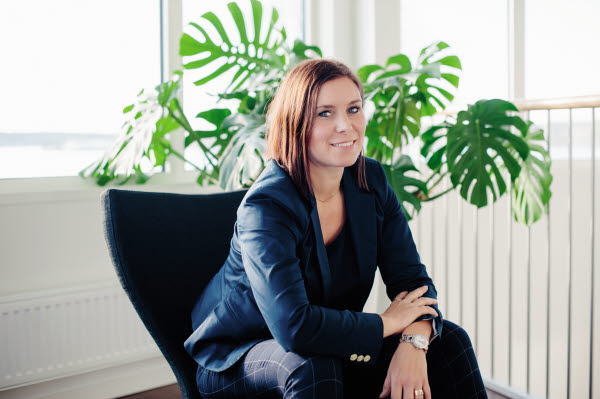 Ylvali Gerling's family company­ provides help to people whose ability to ­swallow has been ­diminished.
"Being able to eat is not only necessary to survival – a good meal also enhances our quality of life," says Ylvali Gerling, managing director of medical device company MYoroface, based in Hudiksvall in northern Sweden.
The company is owned and run by Gerling, her sister Linn Hägg and their mother Mary Hägg. In 2014 it launched IQoro, a treatment with an accompanying product for anyone who has weakened muscles in the mouth, throat and oesophagus. In simple terms, it is a specially designed plastic shield with a handle. The shield is placed over the teeth, and patients train their muscles by tightening their lips around the handle while pulling outwards for five to 10 seconds. This exercise is repeated three times and is performed three times a day.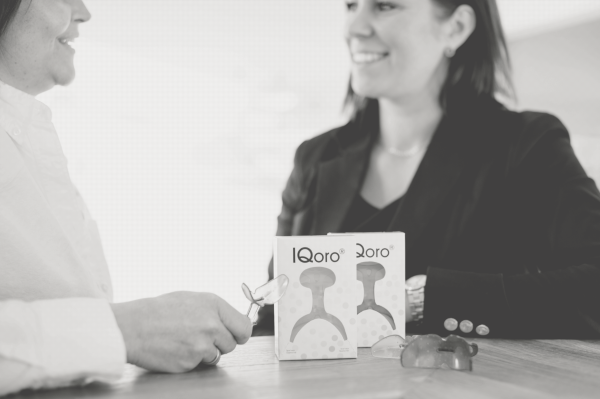 "IQoro stands for 'intelligent mouth', and we like to describe it as a dumbbell for visceral musculature, as it actually trains the muscles in the mouth, throat and oesophagus," Gerling says. "It also has a positive effect on snoring problems."
The mouth shield was developed by Mary Hägg, a medical doctor specialising in orofacial medicine. She has long been interested in the connections between the mouth and brain, and she has been researching dysphagia for more than 20 years.
"The mouth is such a central part of the body," Gerling explains. "Babies explore their surroundings using their mouths, and the mouth is crucial to our ability to speak. There are all kinds of connections between the mouth and the brain."
In 2012 IQoro won second prize in the Scandinavian business-plan competition Venture Cup North, and this encouraged Mary Hägg and her daughters to found MYoroface and invest in the product, which was launched on the Swedish market in 2014.
"It has gone well," Gerling says. "IQoro is now available in 11 Swedish medical county councils and from several private care providers. We hope soon to be able to sell the product via pharmacies, but we already have a web shop for private individuals. We're also gearing up for an international launch."
The next products from MYoroface will be educational packages about dysphagia, intended for both the public and healthcare professionals.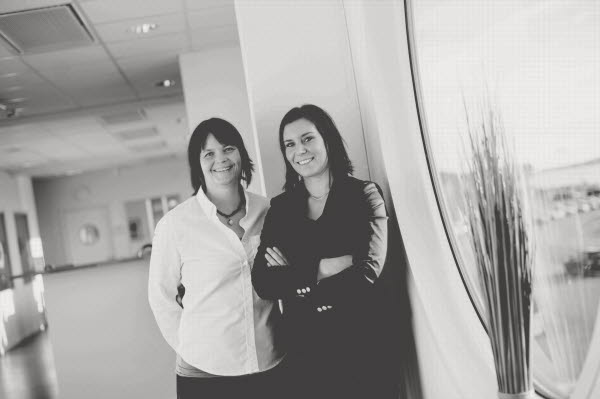 Agneta Wallner, marketing and sales assistant, and Ylvali Gerling, managing director.
"While dysphagia is one of the most common disabilities, knowledge of the condition is unfortunately often very poor, even in healthcare," Gerling says.
"At the moment we're developing the various educational packages. After that we have several products in the pipeline in the field of orofacial medicine, which covers the mouth and face – but that will be some time into the future."
How IQoro works
Around half of the people who have strokes experience difficulty swallowing in the initial period afterwards, and roughly a tenth of the patients have long-term problems. IQoro has been developed in association with researchers and industrial designers in Sweden and is included in several scientific studies relating to the treatment of stroke patients with dysphagia.
As for how IQoro works in medical terms: The patient closes his or her lips around the mouth shield and pulls the handle. This activates the muscles in the lips, mouth and down to the top one-third of the oesophagus. It creates a vacuum in the mouth cavity, pulling the tongue backwards and upwards to make contact with the soft palate, where important sensory nerves are triggered to activate the musculature from the face, mouth cavity and oesophagus, down to the diaphragm and stomach. Moreover, the brain is stimulated into finding new ways to coordinate the complex mechanisms that swallowing depends on.
High quality requirements
When IQoro was being launched, MYoroface wanted the packaging to reflect the company's high standards. The company therefore chose Invercote G 350 g/m2 for the packaging and Invercote Creato 240 g/m2 and 200 g/m2 for the brochures.
"IQoro is manufactured to strict quality, hygiene and ­environmental demands, and complies with Swedish Medical Products Agency guidelines," Gerling explains. "So it was only natural that the high product quality should also be reflected in the packaging."
MYoroface set out a series of requirements for the packaging. It had to have a modern design, convey a sense of the brand, be easy to open yet also strong, have a good print surface and not contaminate the contents. The company decided on Invercote G.
"I was already familiar with Invercote and know that it's a completely clean paperboard with strong fibres that is durable and retains its whiteness," Gerling says. "Because many of our customers have reduced motor function, the packaging has to be easy to open at the perforation, but it also has to remain intact during transport and also have a long shelf life."
Order Invercote G samples
Visit our webshop for printed and unprinted samples of Invercote G:
Order Invercote Creato samples
Visit our webshop for printed and unprinted samples of Invercote Creato: