When Art Director Akemi Masuda and Designer Satomi Ito at Japanese cosmetics company KOSÉ create cosmetics packaging, they aim to make it so appealing that, "when customers see it, they feel an overwhelming urge to pick it up," says Masuda. "The products can be presented just as they are as gifts, and someone receiving it might be inspired to use it as décor."
Each floral package design in the company's JILL STUART Happiness Message Collection is unique. "One package may have flowers in bloom on top, while another might have a design with a bow that suggests a butterfly perched atop a field of flowers. Each box has a slot for inserting a small message card," Masuda explains.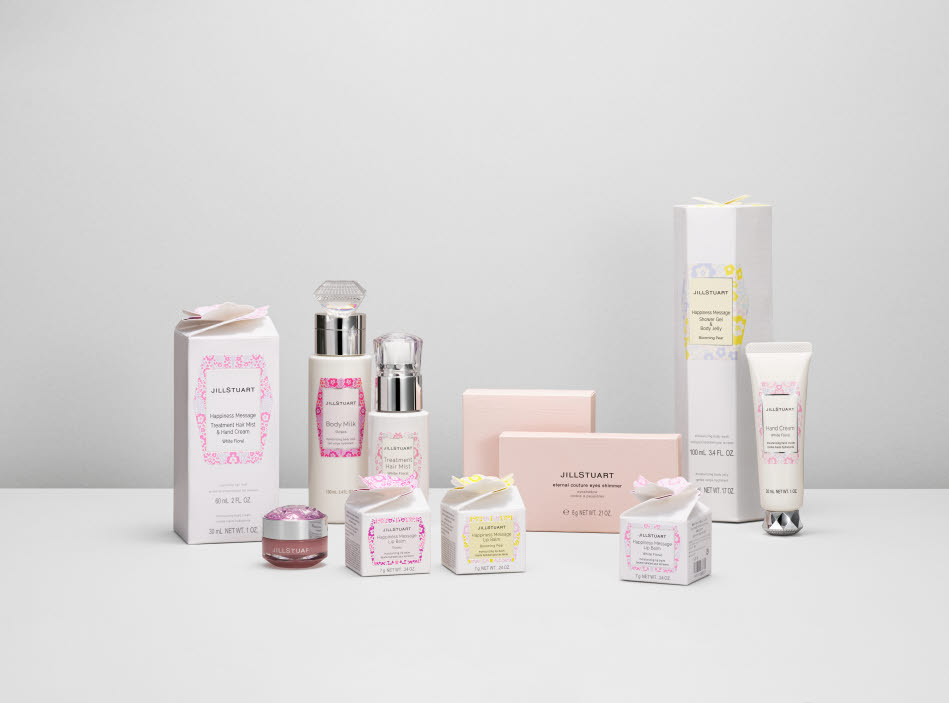 Coming up with a novel construction for this idea was tricky, she adds, and describes their general process: "First we conduct detailed studies with our design engineers to see whether or not the design is suitable for mass production. At the same time, we look into the legal aspects to see whether there are any existing patents, and then if possible, we also register the design or file for the patent, which is how we go about acquiring patent rights for inventions with originality. We patented some of the boxes used in the Happiness Message Collection."
The boxes are made with Iggesund's Invercote, selected for its luxurious feel and sustainability, says Masuda, adding that they also appreciate the ability to use both sides of Invercote.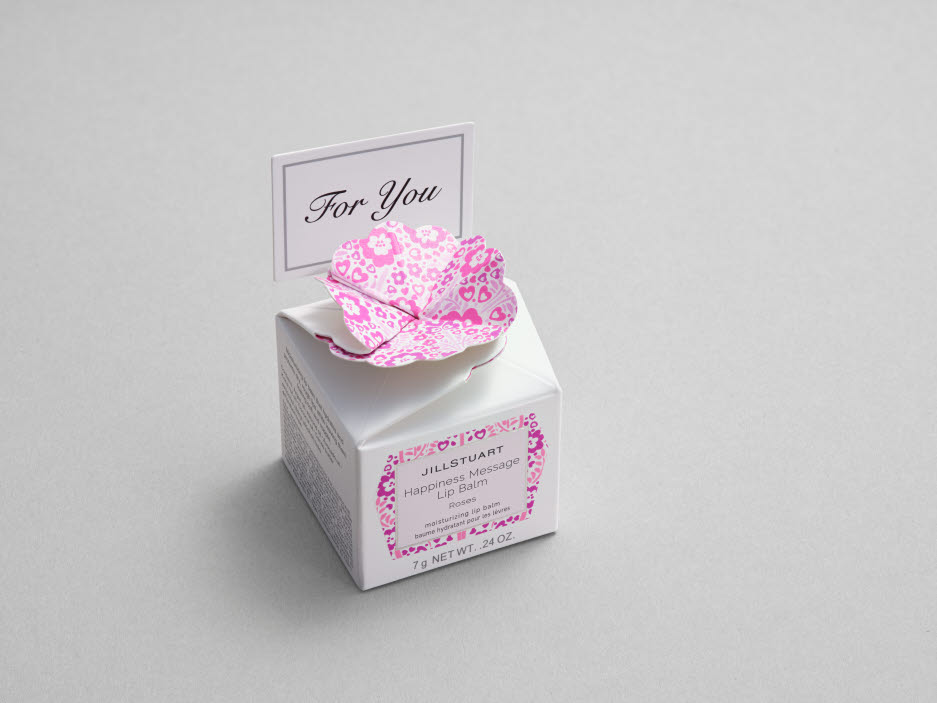 "Since it has a different feel on the front and back, with the front having a unique gloss finish, and the back having a matte-like finish like natural paper, we can decide whether we will use the front or back of the paper for the packaging surface according to the product's category. With the Happiness Message Collection, we have used the elegantly glossy, white front side, a vivid printed colour, as well as embossing. And the coolest thing is that, with Invercote, we are able to create 3D shapes, such as the blooming flowers and bows on the top of the box."
JILL STUART Beauty was created in 2005 by KOSÉ, embodying the philosophy of fashion designer Jill Stuart. The brand is mainly sold in her hometown, New York, but is also very popular in other parts of the world, especially in Japan.
Facts
Brand: KOSÉ - JILL STUART Happiness Message
Application: Skincare, new product
Paperboard: Invercote G 280 g/m2
Converter: Toitsu ptg
Finishing techniques: Reverse side offset printing with embossing, unique shape of lid