There was a time when you could stroll around the Upper West Side, walk past an empty storefront, and say: "Wouldn't it be great to open a store here?" And then just do it. That was exactly what happened when FACE Stockholm first arrived in the United States almost 30 years ago. Gun Novak was a highly regarded Stockholm business­woman and had run trendy clothing boutiques in the Swedish capital for many years, before she decided to switch to beauty products (there were no cosmetics colourful enough to match her clothing). She had been operating her beauty products store – then under the name of Face Factory – for a couple of years when she went to New York to visit her daughter, Martina. Martina had moved there to study in Manhattan and survived by doing various club gigs and extra jobs.
"I moved to New York in 1986 to study musical theatre," she explains. "I studied, sang and lived in the city for two years and took the jobs I could get. There isn't a single restaurant in the city where I haven't worked at some time."
While they were walking past the store premises in the district where Martina happened to be working then, it was Gun who thought that Martina should have something sensible to do in the daytime.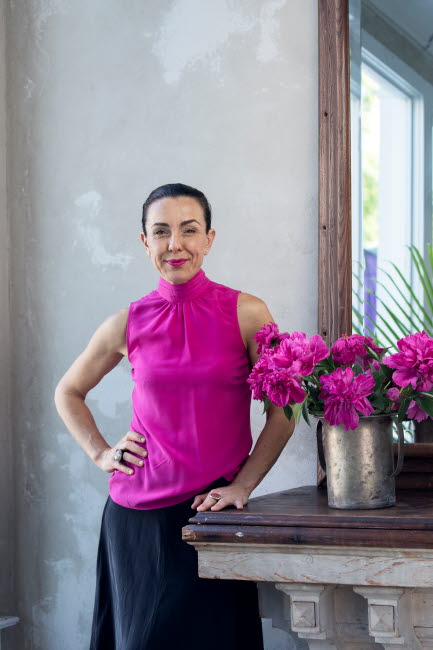 Martina Arfwidson, CEO of FACE Stockholm and a big fan of strong colours.
"We looked at each other and said 'shouldn't we open a FACE Stockholm store here in New York, so I can work in the daytime and sing in the evenings?'"
That sudden notion is typical of how the family company has been run ever since. Martina describes it as a 35-year-long journey filled with spontaneous decisions and impulsiveness:
"We've made a number of mistakes but that's what happens when you allow your gut feeling to steer you. I was just a well-behaved young Swedish woman who really knew nothing at all about beauty. It was makeup artist Helen Andersson who is now our lead educator who taught me."
The store opened in 1990 and at first FACE Stockholm's current CEO stood behind the counter seven days a week. Within a few months' time, famous women like actresses Mia Farrow and Whoopi Goldberg, and singer Carly Simon became regular clients. It was not long before department stores also turned their gaze on the Swedish beauty company.
"We're living in an incredibly different world. I used to sell lipstick. Now it's like I'm running a marketing department."

— Martina Arfwidson, FACE Stockholm
"Barney's contacted us, and looking back, I would never have been able to believe they'd be interested in us! We couldn't believe it – we'd never seen ourselves as a brand."
But that was what they were. A brand that stood for a whole lot of values that plucked the right heartstrings of a picky New York public – welcoming and eclectically furnished stores, impeccable service, high-quality products and a disarmingly easy-going attitude to beauty.
"We've always had a loyal customer base," Martina says. "They were attracted early on by what we represented and by the energy and environment in the store. Cosmetics can be extremely traditional and serious. FACE Stockholm's mottos are Beauty, Wit and Grace. It's fun to make yourself more beautiful and express your individualism – that's been a human ritual since time began."
At the beginning of the 1990s the whole world suddenly seemed to become interested in indepen­dent makeup artists' brands. FACE Stockholm opened a new store in SoHo, Manhattan and then quickly expanded far outside the borders of the US. Soon it was in hundreds of locations world wide. Over the years its own-name stores have become fewer but many, many department stores still sell FACE Stockholm products. And, like every other player in the retail sector, the company has been affected by advances in digital technology.
"Nothing is the same as it was twenty years ago! We're living in an incredibly different world. I used to sell lipstick. Now it's like I'm running a marketing department. It's e-commerce…it's social media…it's content. It's been a tough transition but we've been lucky and successful."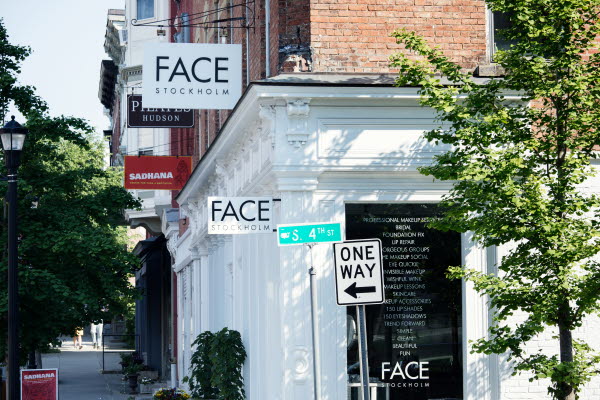 FACE Stockholm has its headquarters and flagship store in Hudson, New York.
It could be called luck but more probably it is because FACE Stockholm has always succeeded being what all brands today are striving so hard to be: a lifestyle brand. A company that its customer base can relate to, recognise itself in and aspire to. This desirable position has led other companies to want to establish partnerships with FACE Stockholm. One of those not-unknown players is Reebok, which approached FACE Stockholm to cooperate on a limited line of its best-known model, Reebok Classics.
"I thought I'd fall off my chair when Reebok called. They'd looked at us and needed a partner and wondered if we'd be interested in talking with them. They liked our culture and our colours. We've spent masses of time and energy on trendspotting and colour selection."
Another joint venture of the same size was launched about a year ago with the American fashion chain J Crew. Collaborations like these generate a lot of PR, which in turn drives traffic to websites and online stores. FACE Stockholm has thereby succeeded in staying highly relevant and successful in an industry that is far more competitive than when the company first began.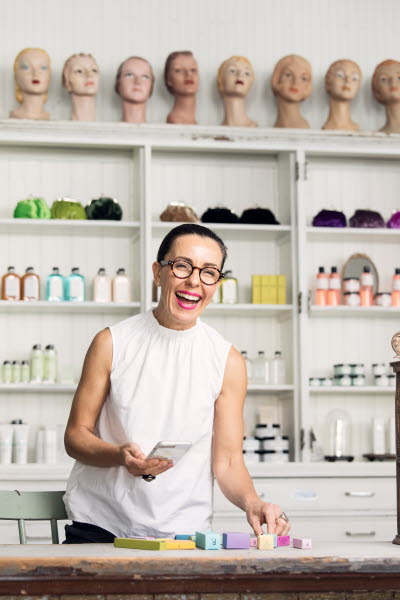 "When my mother founded the company, only the giant companies existed. Now there are more beauty brands than ever. But we've continued to be successful and I believe much of that is because we're a family company. Even though mum and I of course disagree sometimes, the company can never destroy our relationship. And we're so good at having fun! However tough the times are that we've gone through, basically we've always had great fun."