"The package plays an important role in creating excitement and raising feelings," says Naoko Yokokura, Creative Director at KOSÉ Corporation.
"For premium brands like INFINITY, in particular, gorgeous appearance and luxury are of course important and there is a need for packages that satisfy customers in a variety of situations, such as the feel of the actual product when picked up and the comfort of use."
INFINITY KOSÉ Royal Flower Collection VII Compact Powder is a flower-themed face powder that masks pores and brings the skin a glow that seems to radiate from within. The challenge for Creative Director Naoko Yokokura was to create a carton package that would replicate the flowery decoration on the primary package with excellent color reproduction.
"When opening the white box, the design with the picture of flowers that suddenly appears on the inside is meant to give a surprise. The external appearance is very simple, but the flowers with delicate embossing on the white paper make you envision the image of flowers hidden in the box," says Naoko Yokokura, who is very pleased with the choice of Invercote G.
"I thought Invercote was suitable for expressing the delicate embossing relief. Also, it has good printability and natural texture when printing the picture of the main portrayal on the entire inner side. We adopted it because it matches the representation that we were looking for. The paper used for the exterior was selected with particular attention to appearance and texture after printing and conversion."
By the way, Invercote G is also used by other KOSÉ brands, such as JILL STUART, LECHÉRI and Awake.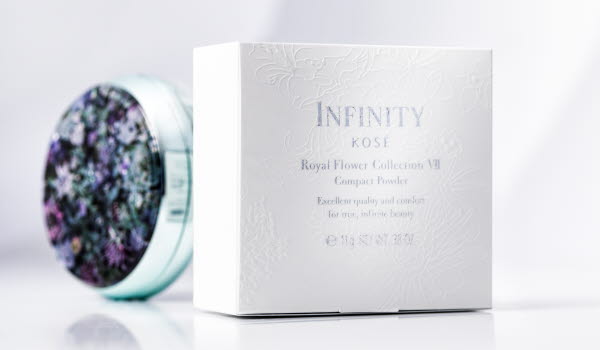 Facts
Brand: KOSÉ / INFINITY
Product: INFINITY KOSÉ Royal Flower Collection VII Compact Powder
Paperboard: Invercote G 330 g/m2