Fed up with the lack of good quality sports supplements, professional swimmer Joseph Welstead, co-founded Motion Nutrition. As an athlete, he had always taken a deep interest in his health, in particular the nutrients he put into his body. Joseph says that he felt incredibly frustrated by the lack of decent ingredients in sports supplements.
"I used to prepare my own hydration drinks using a little orange juice, a little salt and some sodium bicarbonate. I experimented with different ingredients and went out of my way to grow fresh wheatgrass".
Noticing a contrast between performance supplements available on the market, and the consumers who prioritised healthy products, Joseph and his partner created Motion Nutrition, providing real organic food supplements made from quality ingredients that support both body and mind.
"My cofounder and I knew we wanted to create active lifestyle supplements that would be unrivalled in quality and long-term health benefits. The sustainability element fell naturally into the equation."
"Everything we do should feel fabulous, because that's the way we want you to feel. Incada ticks all the boxes!"

Joseph Welstead, Co-Founder Motion Nutrition
Motion Nutrition's commitment to sustainability means that they only use carbon-neutral delivery for shipments. But they wanted to make their products more sustainable too, which led them to making some big decisions regarding the packaging. Most supplements on the market typically comes in plastic jars, but Motion Nutrition wanted to steer clear of plastic, choosing to move over to more environmentally-friendly paperboard.
"Plastic materials do not fit well with our brand ethos, and do not sit well with our customers' values either. We're doing everything we can to completely get rid of plastic materials. We're already 90% of the way there."
Joseph explains why they haven't made the switch to 100% paperboard packaging. Much as they would love to, he says they are obstructed by the current industry standard.
"It's relatively easy for us to replace a plastic tub with a glass jar, or a pouch with a cardboard box. But when entire industries rely on a small plastic-coated liner inside of standardised lids to prevent moisture from penetrating inside the jar, things become harder".
Joseph believes that a new industry-wide standard is required, but thinks it's become difficult to achieve due to the necessary elements not being obvious to the consumer. He says "These final elements are still out of our control and will take some time to shift."
Motion Nutrition have always placed sustainability hand-in-hand with user convenience; their view being that one shouldn't come at the cost of the other. But stepping away from plastics and using only carbon-neutral delivery has had its challenges.
"Often the more convenient a product is to use, the more packaging material it tends to have, for example coffee pods vs bulk coffee" he says "This is why our idea of using paperboard boxes with home compostable sachets made so much sense".
But coming up with the idea and making it happen wasn't easy.
"My advice to other companies wishing to transition to more sustainable operations, is to educate yourself as much as possible in terms of the materials and technologies already available on the market"
To create their paperboard packaging, they looked closely at what leaders in the tea market were doing, they then combined this with the latest materials available, and adapted it to their supply chain.
"You will probably not be able to create an entirely new packaging material. But can you adopt and adapt practices from a different industry?"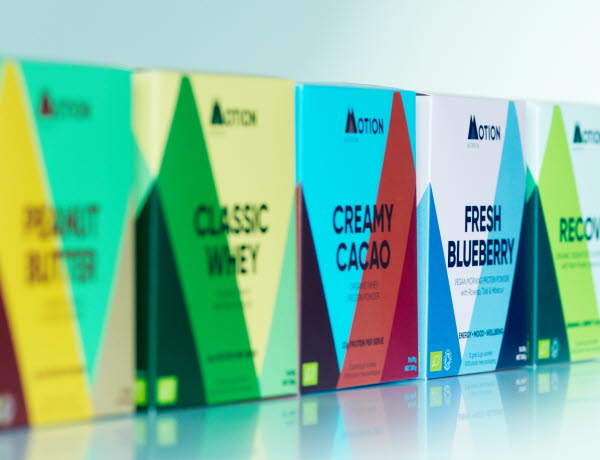 One of the reasons that they created a cubic carton was so that it would look great when it was stacked. And their decision paid off – stores today are creating beautiful window displays without even telling them; they just love the way the packaging looks and want to showcase it in their store.
Motion Nutrition is all about bright, bold colours, and great quality, so they need materials that really stand out visually, have strong colours and a premium feel when touched. Incada provided just what they were looking for.
"Everything we do should feel fabulous, because that's the way we want you to feel. Incada ticks all the boxes!"
Joseph goes on "People love the bold colours and the friendly image our products now have. This is a big step away from conventional supplements and we're able to capture the interest of new types of consumers".
Going forward, Motion Nutrition want to continue to build products that help their customers feel more alive, sleep deeper, and do better. That means products that compliment busy lifestyles, and make sense in terms of health benefits, usability and sustainability.
Facts
Brand: Motion Nutrition
Product: Food supplements
Paperboard: Incada
Order Incada samples
Visit our webshop for printed and unprinted samples of various Incada products: