The Lakes Distillery, located in England's beautiful Lake District National Park, is home to an assortment of gins, vodkas and whiskies, including The One Whisky Collection. This blended whisky was recently launched in a variety of limited editions such as The One Orange Wine Cask Finished, which boasts hints of tropical fruits and candied orange peel.

The creation of new variants led to the development of an attractive range of packaging that showcases the unique flavour of each cask expression.

"The Lakes Distillery wanted to take their brand upmarket and market themselves in a more focused way by really showing the range better through cartons with contemporary colours," says Tracey Booth, account manager at HH Global, responsible for specifying the board and coordinating the development of the packaging.
"We chose Invercote Duo because the Lakes Distillery wanted a premium feel with embossing, debossing, foils and spot UV varnishes. We needed a strong, solid, super white board with a luxury feeling that would hold the emboss and deboss well. It also had to maintain integrity across the construction, avoiding delamination on the corners, which sometimes happens on laminates in materials of a higher calibre."

- Tracey Booth
Booth adds that it was important for the Lakes Distillery to use recyclable materials that could be supplied locally and, in particular, from a supplier with a connection to the Lakes District in terms of geography.

HH Global also partnered with a local printer, Herbert Walkers (HW), where tooling for the fine detail of the production and finishing process could be done under one roof.

The thick Invercote Duo 790 g/m2 paperboard was not only able to support the heavy whisky bottles and multiple finishes, but it creased well too. "There are not many boards on the market with that thickness. This is the nearest you can get before you come to a rigid box," says Andy Christie, sales director of HW. "Invercote offers both the thickness and the strength to support debossing and embossing without requiring two plies of board." The most complex part of the production was getting tight registration on a number of production passes with such a thick board, he points out.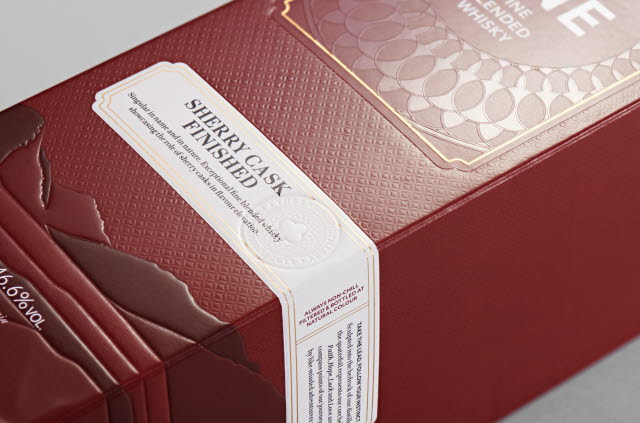 Christie's marketing colleague, David Peters, says: "Everything that can happen to a carton has happened to this carton – it has a double seam and has been punched, foiled, embossed, etc., and it has withstood every bit of the production process beautifully."

Today, he adds, it is possible to create a luxury package that is also recyclable and biodegradable. "In the past, people were stripping off varnish and foils but now these embellishments are coming back on luxury packaging and they are of an eco nature. There are also substrates like those from Holmen Iggesund, which retain their quality look and strength, offering what a rigid box offers but at a lower cost. Beauty doesn't have to cost the earth."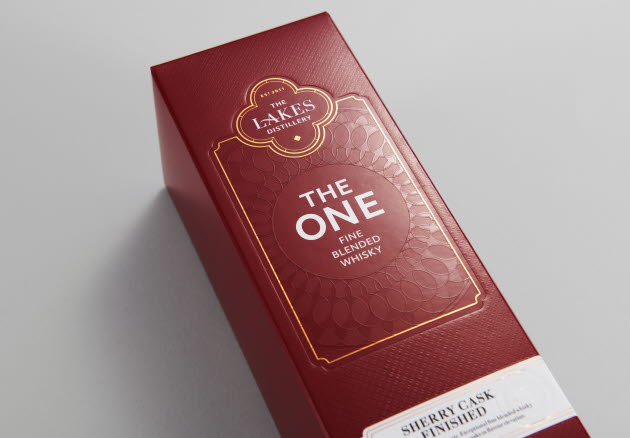 Facts
Brand: The One Whisky
Product: Whisky box
Paperboard: Invercote Duo 790 g/m2
Order Invercote Duo samples
Visit our webshop for printed and unprinted samples of Invercote Duo: