Grow your income
In 2013 Iggesund invested in a biomass-fired combined heat and power plant, for the primary purpose of being able to run its paperboard mill on renewable energy. Overnight the mill switched its energy supply from fossil natural gas to biomass, and thereby reduced its fossil carbon dioxide emissions by 190,000 tonnes a year, the equivalent to the annual emissions of about 65,000 cars. In conjunction with this move, the idea was born to offer local farmers the opportunity to grow and sell energy crops to Iggesund.
"It's been an exciting journey. We began in a situation where many farmers were sceptical, as farmers often are. But gradually, as they saw our commitment and our calculations for how they could earn more from their less-fertile land, more and more of them have joined our project, which we call Grow Your Income," explains Neil Watkins, Alternative Fuels Manager at Iggesund in Workington.
The goal was to bring in 25,000 tonnes of biomass from the farming industry. After five years, it is clear that this goal will be exceeded when all the contracted crops are ready to harvest.
Like so many other countries, the UK has an ageing rural population. Most farmers' sons and daughters want to move to the big cities to become rock stars, computer geniuses or TV personalities. The older generation that remains must find less work-intensive crops which bring in a reliable income. Iggesund's offer to the farming community involved helping with planting and also handling the harvest and transport to the mill. All these steps help to reduce the workload on the individual farms. Iggesund has also signed long index-linked contracts, which have helped to make the future income predictable.
When the project began, DEFRA, the Department for Environment, Food & Rural Affairs, had made recommendations that parts of Cumbria have land highly suitable for energy crops. As the project developed, it became evident that the crops also help to counteract the effects of flooding and lead to greater biodiversity.
"Yet another advantage of energy crops – in our case Short Rotation Coppice willow – is that they give a good yield on less fertile land and do not lay claim to land that is better suited to food production," Neil Watkins underlines.
Ulf Löfgren, Mill Director, who was involved in creating Grow Your Income, points out additional effects than just having ensured a supply of the fuel needed to run the mill.
"Cumbria and the parts of Scotland where we are active are dominated by agriculture," he says. "Our interaction with farmers in working alongside them to grow energy crops, plus the fact that we meet with them at agricultural fairs and they come to us on study visits, has meant that we now have a far better-defined identity in the region.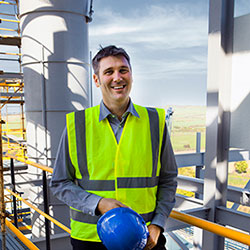 "In addition, we can also give ourselves a joint pat on the back for being a good example of the UN's sustainable development goal 17, a partnership for achieving one of the other sustainable development goals. In this case, we have a collaboration between a large process industry and over 100 farmers to jointly reduce fossil emissions."
Iggesund Paperboard is growing its own eight-hectare energy crop on the land surrounding the mill.
Press material
Download additional language versions and images at www.ins-news.com.